SHIPPING INFORMATION
WE SHIP PUPPIES JANUARY THRU MAY AND OCTOBER THRU DECEMBER DUE TO THE HEAT RESTRICTIONS!!!!
This page is for puppies that can not be delivered by car.
PLEASE CONTACT US WITH REGARDS TO SHIPPING AS UNITED AIRLINES HAS CHANGED MANY THINGS LATELY THANKS YOU!!!!
For all other puppies these are the instructions !!
We only ship on Sundays!!
We will need your contact information to make the arrangements also which airport is closest to you!
We use United Airlines Pet Safe Program 1 800-575-3335 this is the number to reach them. Your puppy is coming from Phoenix Sky Harbor Airport (WE ONLY SHIP PUPPIES JANUARY THRU MAY, OCTOBER THRU DECEMBER) WE CAN NOT SHIP PUPPIES IN THE SUMMER DUE TO THE HEAT IN PHONIEX!! PRICE FOR SHIPPING IS $500.00 YOUR PUPPY AND CRATE MUST BE UNDER 10 POUNDS IF IT IS 11 TO 50 POUNDS PLEASE ADD AN ADDITIONAL $75.00 To make the arrangements we pay for everything when we get the puppy to the airport. Your crate size is 24 long by 16 Wide by 14 Tall and will weigh 6-13 pounds.
Shipper information Sally Baldwin 9188 Sharp Trail Snowflake AZ 85937 (928)241-3327
What we need from you is the puppy and shipping cost in the week before the puppy ships so that we can pay for the crate health certificate and the flight and fuel to the airport and back!
You must Paypal us $100.00 deposit to reserve your puppy. Use my email address to send it to bwaggintails@yahoo.com put in the note box your name address and phone number along with which puppy you want.
VERY IMPORTANT!!! We must recieve your postal money order no later than the Tuesday before your puppy is due to be shipped to allow time for processing and to get the puppy vet checked.
Please send it return reciept request or Fed ex this is for your protection that way you have proof I recieved your money.
Please call me prior to making the arrangements
We do ship within the continetal United States.
PLEASE CONTACT US AS UNITED AIRLINES HAS CHANGED MANY THINGS THANK YOU. OUR SHIPPING FEE IS $425.00 THIS COVERS THE FLIGHT , THE CRATE , THE HEALTH CERTIFICATE, AND THE FUEL TO THE AIRPORT
If I dont answer your call right away I may be out horseback riding on one of my beautiful horses like this one!!!!!!!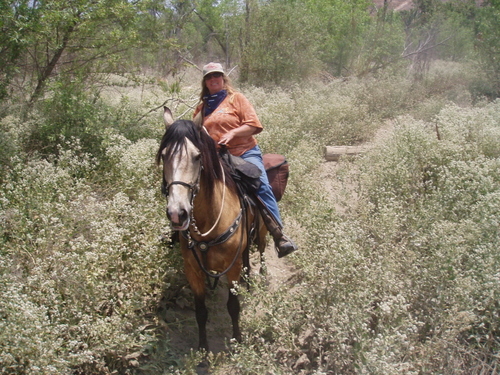 PHONE NUMBER (928)241-3327
We hope you enjoy your puppy and your purchase experience with us and will refer family and friends if you are unhappy in anyway please let us know so that we can correct the problem if possible thanks all of us here at the Ranch!
My Contact Information
Mailing address Sally Baldwin 9188 Sharp Trail Snowflake AZ 85937 (928)241-3327